SPLASH DEFENSE TRANSFER BENCH BY DRIVE MEDICAL
Drive Medical Splash Defense Transfer Bench is designed to provide independence in the home and for patient care. This transfer bench has a U-shaped cut-out design that keeps the shower liner in the tub and avoids spillage. The user is able to enter and exit the tub in a sitting position, making this a much more realistic and safe choice for patient bathing than simple shower benches. The Splash Defense Transfer Bench is reversible to accommodate any bathroom and has a weight capacity of up to 400 pounds. The A-frame construction provides stability and security.
WHAT IS THE DIFFERENCE BETWEEN A TRANSFER BENCH AND SHOWER CHAIR
Simple shower chairs sit completely inside the bathtub with all four feet flat on the bottom of the tub itself. Unlike the minimal design of shower chairs, Drive Medical's Splash Defense Transfer Shower Bench is placed straddling the wall of the bathtub so two feet are inside the tub and the other two feet are placed outside of the tub. This design allows users to maneuver themselves inside the tub while sitting to avoid high steps into slippery tub surfaces, vastly improving safety and independence. Once the user is inside the tub, the shower curtain can be drawn through the U-shaped cut-out to avoid any spilling. This transfer bench also includes a backrest for added support and security.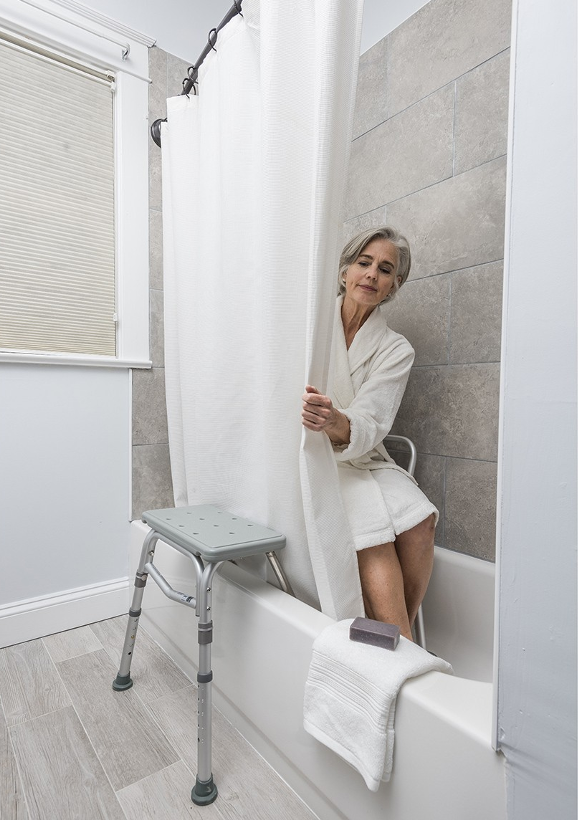 Product Features and Benefits
U-Shaped Cut-Out Design Keeps Shower Liner in Tub and Avoids Spillage
Reversible to Accommodate Any Bathroom
Tool-Free Assembly of Back, Legs, and Arm
Height Adjusts in 1/2 Inch Increments with Unique Dual-Column Extension Legs
Up to 400 Pound Weight Capacity
A-Frame Construction Provides Exceptional Stability
Durable Blow-Molded Plastic Bench and Backrest
Pinch-Free Lever Allows Push Pins to be Depressed Without Pinching Fingers
How to Properly and Safely Use the Bench
Set the transfer bench on the edge of the tub's edge with two feet outside of the tub and two feet inside.
Make sure the bench is stable and secure before use.
The patient will sit on the bench area resting outside of the tub.
Safely move the patient's legs over the tub's edge and into the tub.
Secure the patient on the inner seating of the bench located on the inside of the tub.
The back can be secured against the backrest.
The shower curtain can be drawn through the cut-out design to keep water from exiting the tub.
When exiting the tub, the patient should be securely seated before repeating these steps.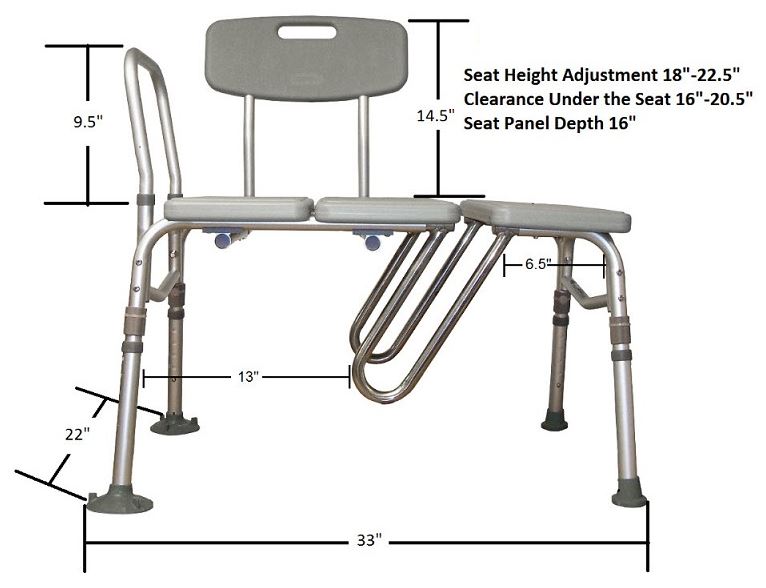 | | |
| --- | --- |
| Product Weight | 12.7 lb |
| Outside base width | 33.5" |
| overall Height | 22.5" |
| Overall Length | 23" |
| Overall width | 33.5" |
| Product color | White |
| Maximum Weight Capacity | 400 lbs |
| Seat Depth | 16" |
| Seat Width | 28" |
| Seat to floor height | 17.5" - 22.5" |